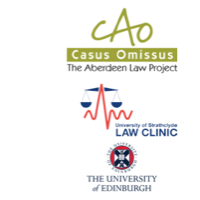 Aberdeen, Edinburgh and Strathclyde sign up to PBS
20 July 2020
In a landmark development for ProBonoSkills.com ("PBS"), the Aberdeen Law Project, the University of Edinburgh Free Legal Advice Centre and the University of Strathclyde Law Clinic have all signed up to receive training from PBS.
The law students involved with these clinics are now in the process of signing up to PBS and once their involvement with a participating law clinic has been verified, they will be able to access materials that focus on everything from substantive law and practical skills to ethics and wellness.
Beyond pre-recorded training materials, PBS will also provide more interactive sessions – masterclasses – where students will be able to ask questions and communicate directly with the legal professionals providing the session. The first masterclass will take place in Q4 of this year.
Robyn Canning on behalf of the Aberdeen Law Project said: "The breadth and quality of training available through PBS is astounding. With the best will in the world, we operate on limited budgets and so providing this level of training was not something we could have done previously. PBS is a gamechanger. It will allow us to ensure that all of our students have access to training on the full range of topics. And even better, they can access that training 24⁄7 rather than at set times that may or may not be convenient. This really is brilliant and we can't wait to benefit from it!"
Rachel Greig on behalf of the University of Edinburgh Free Legal Advice Centre said: "PBS is a fantastic initiative and the Free Legal Advice Centre is delighted to benefit from the training it will provide. FLAC exists both to improve access to justice in the community and to provide clinical legal education and experience to students. Access to the PBS resources will be invaluable in helping us achieve these twin aims. PBS training will be especially useful during these unprecedented times in which our capacity to provide in-person training is reduced by social distancing rules – the online resources will be essential in preparing students to help their clients."