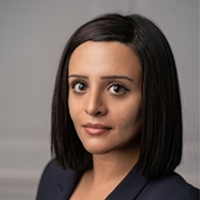 Annahita Moradi-Balf joins PBS E&W Steering Committee
17 April 2023
We are pleased to announce that Annahita Moradi-Balf, Barrister, One Pump Court, has joined PBS' England & Wales Steering Committee.
Annahita Moradi-Balf is a barrister specialising in international human rights law, public inquiries and immigration detention. Prior to specialising, she trained as a criminal defence barrister representing individuals in youth, magistrates' and crown courts. Her domestic and international cases involve a range of issues including due process, torture and ill-treatment, healthcare, land and natural resources. She is a legal consultant to a committee at the Council of Europe advising on the international law framework for immigration detention conditions.
Committed to improving effective and equal access to justice, in 2022 she won the 'Young Pro Bono Barrister of the Year' Award and was a finalist for the 'International Pro Bono Barrister of the Year' Award.
Annahita said: "PBS promotes effective and equal access to justice for all by supporting pro bono law clinics and centres through educating them on the law, client management and case preparation. I look forward to contributing to its important work alongside other legal practitioners."
Ryan Whelan, Co-founder and Chair, said: "I'm very pleased to welcome Annahita on behalf of the team. An award winning barrister with a track-record of commitment to pro bono, Annahita is an obviously excellent addition and we're looking forward to working with her to pursue the aims of PBS."