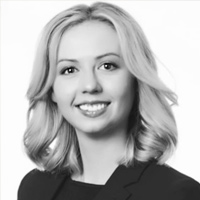 PBS appoints Leigh Gapinski as Co-chair
07 July 2021
ProBonoSkills.com ("PBS") is pleased to confirm the appointment of Leigh Gapinski as co-chair of PBS following an open, peer reviewed application process. Leigh brings a wealth of experience to the organisation, having trained with Brodies in Scotland before working in the City at Linklaters and then Thought Machine as their commercial counsel, before joining RPC's Commercial, Technology & Outsourcing team this year.
Ryan Whelan, Founder and Co-chair of PBS, said: "Leigh becoming co-chair is a great development for PBS. She's a brilliant, passionate lawyer who instinctively gets the ethos of what we're building here – a collaborative environment in which people and organisations are helping to fill the justice gap by providing high quality training to those on the front line.
The PBS community is one of like-minded individuals from undergraduate and postgraduate study, academia, and legal practice. Individually and collectively, we passionately believe in the ability of student advisors, the kindness of the profession, and the importance of ensuring access to justice for all in our society.
With Leigh helping to lead the charge, further collaborations ahead, plus planned expansion into England and Wales, it's an exciting time to be involved with PBS."
Leigh Gapinski, Co-chair of PBS, said: "PBS is innovative, collaborative and forward thinking. Working with the team to develop and roll the platform out across the UK has been an exceptionally rewarding experience.
In this next chapter, as co-chair, I'm honoured to be working with Ryan to lead the team and platform to further successes. I really am so proud to be taking up this post, and I can't wait to get started!"