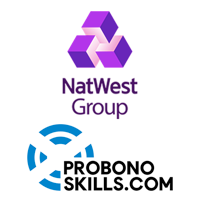 PBS secures support from the NatWest Group
27 November 2020
ProBonoSkills.com ("PBS") can today announce that it will collaborate with NatWest Group on a range of initiatives. In addition, Philip Hall, Senior Legal Counsel in the Outsourcing, Technology and IP team, will join the PBS Advisory Board.
The bank's Deputy General Counsel, Donald Macdonald, said: "We are delighted to lend our support to PBS and the pro bono law clinics that this initiative will support. It will make a big difference for law students and those who rely on pro bono initiatives for advice and representation. PBS is an impressive platform that has already taken steps to improve access to justice through advice and representation.
"As a purpose led bank we are committed to investing in local communities and it's a real pleasure to announce our support of PBS. Through this partnership, our legal team will help PBS deliver on its aim of helping law clinics do more, deliver more and achieve more for the people and communities they support."
Ryan Whelan, Founder of ProBonoSkills.com, said: "It's a real pleasure – and a landmark achievement – to announce that we've secured this extraordinary support from NatWest.
"PBS is in its infancy, but I am pleased to say that we've already made significant progress towards achieving our core aim of ensuring all students undertaking pro bono have on-demand access to bespoke, quality training materials. We are grateful to the NatWest Group for recognising that good work, but also for believing in our potential to do even more.
"Together with the bank we are planning a wide range of joint-initiatives that will be of real value to the clinics and students that we exist to support. It's an exciting time for all associated with PBS, and the hard-work continues apace."