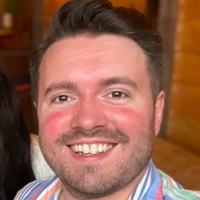 Ryan Wells joins PBS' Group-wide Committee
21 April 2023
Ryan Wells, Engineering Manager at Shopify, has joined PBS' Group-wide committee as Director of Technical Development.
Ryan completed his BSc in Computing Science at the University of Glasgow before beginning his career with Skyscanner's engineering team. Ryan has significant experience delivering key projects, including at Skyscanner where he led a product engineering team, and developing cutting edge, scalable products.
Ryan was responsible for developing critical NHS Scotland systems at the height of the pandemic, including the platforms behind the NHS' National Patient and Clinical data systems and shielding services.
He is now Shopify's Software Engineering Manager and is responsible for developing its next-generation customer privacy project.
Ryan said: "I'm really very impressed by PBS. It's innovative, top quality and creating what I would call a network effect by inspiring a whole host of people to invest their time supporting student pro bono across the country.
I'm looking forward to getting started and using my skills to help PBS invest in our local communities and the future of the legal profession. I have no doubt PBS will make a real difference, so I'm delighted to be involved!"
Ryan Whelan, Co-founder and Chair, said: "Attracting technical support of Ryan's calibre and experience is testament to the value of this initiative and the great progress of our team, not least Andi Semler who has been absolutely instrumental in supporting the technical development of the platform since day one.
We're delighted to welcome Ryan to the PBS team and can't wait to share some of the developments that we'll be rolling out now that he's on-board and working alongside Andi."