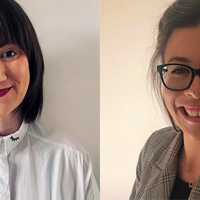 Stevenson-McCabe and McDermott join PBS Steering Committee
29 October 2020
The team at ProBonoSkills.com ("PBS") is pleased to confirm the addition of Seonaid Stevenson-McCabe from Glasgow Caledonian University and Eilidh McDermott of the University of Edinburgh to the Steering Committee.
Ryan Whelan, Founder of PBS, said: "Seonaid and Eilidh are two tremendously talented additions to the team. Along with Mairi McAllan and Katy MacAskill, Seonaid has done some tremendous work in building RebLaw Scotland, and Eilidh is making waves with Edinburgh's FLAC. I'm very pleased that they've decided to join PBS and look forward to working with them as we continue to build out the PBS platform."
Seonaid Stevenson-McCabe, Lecturer in Law, Glasgow Caledonian University, said: "At GCU, it is important to us that our students not only acquire substantive legal knowledge, but that they also develop the skills they need to improve access to justice in our communities. PBS will allow our students access to training, online and while remote from campus, which will improve their pro bono skills. This is a brilliant project, developed during challenging times, and we are looking forward to getting involved and working together for the common good."
Eilidh McDermott, Law Student, University of Edinburgh, said: "When I was first introduced to the concept of probonoskills.com I knew that this fantastic initiative was something I wanted to delve deeper into in any way that I could. I am absolutely thrilled to be joining the Steering Committee.
"PBS is a wonderful platform for students engaged in pro bono work to access invaluable high-quality training materials and events which will better equip them to serve their communities across Scotland and improve access to justice."